Little Dinner Theater Players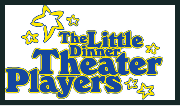 The Little Dinner Theater Players are a theatrical troupe that is dedicated to providing the best in interactive entertainment to both public and corporate audiences.
Operating in and around Lynchburg since 2001, The Little Dinner Theater Players have the ability to perform in a wide variety of venues and thus provide a unique form of interactive entertainment appealing to all ages and appropriate for special events, private celebrations, corporate functions, and charitable fundraisers.
The Little Dinner Theater Players bring together just the right mix of talented individuals to provide their audience with a memorable experience that leaves them laughing and wanting more.
Call 239-7250
or visit www.littledinnertheater.com
for current schedule, information, and reservations.